Alan R. Palmer, trading badge: ARP. have been trading with my own money beginning in 1980 at 21.
I was a local in the trading pit. I moved from one pit to another through the course of a day depending on the action, using my charts as a guide. Charts and relationship's are my artwork.
I post charts which move $2,000 to $4,000 per one futures contract. A good fast vertical move.
Revised week of Nov 17'17' moves of $3,000-$5,000 as has happened crude, Bonds $24,000 profit last 94 days. List goes on.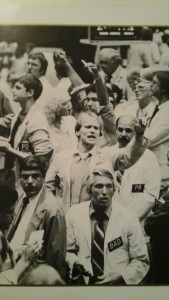 I have taught and mentored many clerks in my time on the Chicago Board of Trade Trading floor.
I started in the business at age 12 as a runner in 1973. Let the cost of my "speculation tuition," to paraphrase Jesse Livermore, help you to become a better trader at a fraction of what it has cost me in the past which over the years has been millions.
I'm a member of the Chicago Board of Trade, now owned by the Chicago Mercantile Exchange. Registered with FIA since 1982. I've done TV and Radio interviews with reporters covering financial and agriculture markets, even local TV. CNN, CNBC, Bloomberg.
Don't get taken by the latest "slick Willy" or bankster's predicting $20 crude. NASDOG.com said buy @ $43.00 MLK day 2015. It rallied $20.
One year later we went to the mother of olive crude buy at $29.00 for one day Jan 21 2016, then Feb 11th.
Everyone else was screaming crash.

It had crashed, that's what my OL detects.
I am the real deal, help you trade like a trader. It fades the market hoping to pull back. That's just crazy. I like to be the right direction with stop risk, customized which is the secret.
Join NASDOG.com "Where You get the Best Dope…On the Markets," along with provocative thoughts & commentary.
NASDOG charts and comments provide analysis not readily available to small investors with a passion for markets. I look for big movers so you can catch an opportunity for a big chunk of the price movement. I have proved solid value plays in markets to leverage up. System detects what others hate behavioral science. Longterm payoff is, the "
despised trade

," I label $29 crude and $1,056 Gold, Bonds 2.09% . The hated trades, w payoff big. Not negative rates forever TV talk, it lasted a few weeks. That comes from the Harvard Economist guys on TV, no inflation forever, bond top in 2017 by GS. Hook.
Decipher market noise. Don't listen to anyone, listen to price action, that's it.

I, as most real traders, have an ax to grind. I want you to make money, or need trading ideas? it requires you to be ready, when opportunity arises and maintain discipline. Join NASDOG VIP or take the one-on-one mentorship. It's a brain drop of things you would never think of.
Search something aapl apple baba top is in, bonds www.nasdog.com/search
UA-50384225-1